Just to give fair warning, this is going to be long and somewhat disconnected...
I'd had
Likembe
on the back burner for some time, and it seems that this was to my disadvantage cause I have been missing out on a true resource on African music! Just today, I learned more about
Somali music
(and thankfully found some funk jems that will surely help me update my deplorable synth heavy collection) and linked over to an incredible collection of
"waling vocals and frenzied guitar-picking"
from Madagascar (pictured below) & other countries. This stuff is really amazing. I could have spent more of my day poring through the comprehensive archive but that will just have to wait until another time.
I also listened to some of Fader's
new podcast
episode from their
Fall Fashion issue
 (downloadable pdf). Nothing out of the ordinary Fader stuff on there, which isn't necessarily a bad thing I guess.
R is back in action over at her blog, returning with a
short reflection on the Olympic games
that came to a close today. I left a comment on her post on the media coverage of the Olympics by the
Boston Globe
,
WaPo
and
Slate
, all of which have been better dissected by
Sean
and
Nadra et al
. Tito is also back with a
two-
part
entry that is just as interesting as his older stuff. Will someone please publish this guy before I steal his stories? My other new favorite blog is
Kenyan Gay
, which I stumbled upon coincidentally after I read
this article
on gay African and Arab bloggers.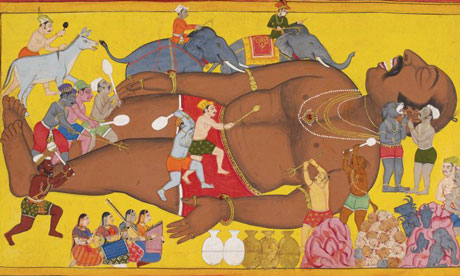 For anyone that has been following the news within the past few years, there has been an increased focus on India. I am not an exception to this trend but my attention has been focused largely on the history and culture of the country. Particularly insightful in this matter is the recent
Guardian article
on the many renderings of the Ramayana. I read that right after I had seen
this article
on Mute about inverted Orientalism and the "Hindu Nation." I wanna let it all come together before I return to it. The pic here is of the demons trying to rouse Ravana's brother, inspired by the 24,000-sloka Sanskrit epic.
Speaking of South Asia, Sri Lanka's M.I.A. has been sampled by Ye & Co. on the internet's latest leak,
Swagger Like Us
. Read T.I.'s reaction to the leak
here
. In my opinion, even though the ensemble is epic, I am personally not a big fan of the vocoder biz and there's something wrong about Jay and them taking their cue from M.I.A. Especially when it comes so long after the song's release - it has been featured on an Apatow/Rogen movie for crissakes.