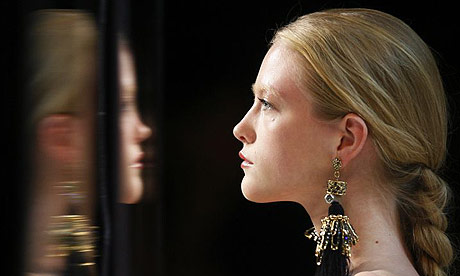 "

A good Marc Jacobs show has the unfortunate side effect of making the rest of New York fashion week look utterly bloodless. Last night, after three days of designer musings on the theme of expensive-looking shift dresses that show off your bony clavicles, Jacobs had the audience on the edge of their seats.

"
Check out the collection
here
in all its "ugly betty meets Little House on the Prairie" glory.
And speaking of vanity, you can download Kanye's latest joint, Love Lockdown, 
here
. I like that he is exploring new frontiers and exposing hip-hop listeners to different sounds, Kanye is nothing if not innovative so props to him. Having gotten the kudos out of the way (we all know hell hath no fury like a snubbed Kanye), I think it's fair judgement to say that this piece is amateurish at best, I may even venture to say that it is a little boring. But it's Kanye, and maybe this is him just getting his feet wet. Plus it's refreshing to see an artist defy his categorization within just one genre. I think he once said something about not being the best at everything but at least having the sense of adventure to try his hand at more than one thing.
UPDATE: Ye put up a
new version
 of Love Lockdown after making some changes as suggested in the comments section of his blog, prompting
The Fader
to ask if his upcoming album would be the first of its kind. Incidentally, I was on his blog and saw
Didddy's hilarious version
of the (in)famous SLU. I just died laughing, it's actually pretty awesome. Wait... that was a joke, right?
UPDATE #2: I just watched the Love Lockdown
video
which is actually pretty sick.